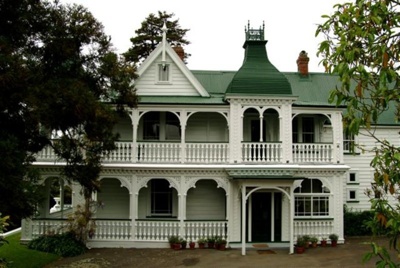 This romantic timber mansion began as a farmhouse in 1863 and was later expanded to 18 rooms, with fairy-tale decorative verandahs and towers. It was owned by the Kerr Taylors, a leading family in Mount Albert, until it was left to the New Zealand Historic Places Trust (now Heritage New Zealand) in 1972. Allan Kerr Taylor was a landowner, investor and provincial and local body politician. His wife Sophia was an outspoken advocate of the vote for women, as well as a singer, gardener and mother of 10. She ran the estate for 40 years after her husband's death, with her three unmarried daughters running it for a further 40 years.

Alberton was famous in the 19th century for its balls, hunts, garden parties and music. It contains a wealth of original family furniture and other possessions, and several rooms retain their 19th century wallpapers.
Contact Details
100 Mt Albert Road, Mt Albert, Auckland
64-9-846 7367
www.heritage.org.nz/places/places-to-visit/auckland-region/alberton
Visitor Information
100 Mt Albert Road, Mt Albert, Auckland
Wednesday - Sunday 10.30am - 4.30pm
Adults: $10 Children free Unaccompanied children $3.50 Please understand that surcharges may apply at times of special events.
Other Facilities
Wheelchair access (downstairs). Museum brochures.
Search Alberton's Collection