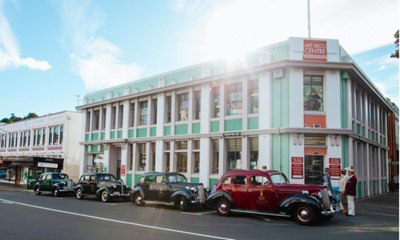 The Art Deco Trust is a guardian, a storyteller and an interpreter of some unique national treasures.
We are the guardian of a collection of beautiful art deco buildings constructed after the 1931 Hawke's Bay earthquake and fire.

The Trust is a storyteller of courageous people who were able to imagine a different kind of city and adopt the energy and optimism of a modern art and design movement to create it.

The Trust is also the interpreter of the spirit of Art Deco to contemporary audiences in Hawkes Bay, New Zealand and beyond.

Guardian
The Art Deco Trust came out of a group formed in 1985 to protect the unique 1930s buildings that for 50 years had been unrecognised, undervalued and were under threat of demolition. Thanks to the advocacy of a new generation of courageous people with vision, these heritage buildings are now recognised, valued and protected. Thanks to the Trust's Robert McGregor Heritage Fund and Heritage Working Group, funds are now available to help preserve and restore Hawke's Bay's Art Deco heritage.

Storyteller
The story of how Napier rose out of the rubble and ashes of the 1931 earthquake is just the compelling opening chapter of a bigger and equally intriguing story of how Napier people, New Zealanders and many world-wide fell in love with treasures that had been hiding in plain sight for 50 years. There are the stories of those who created the buildings, of the battles lost and won in the fight to preserve the historic precinct, and of those buildings brought back from the brink.

Interpreter
Emerging after the First World War, the Art Deco Movement celebrated the modern age, the machine, and synthetic materials. Its designs were simple. Its spirit was optimistic and energetic. People had the opportunity to imagine a new future. Napier embraced the chance to modernise and bring beauty from the ashes. The Trust is the interpreter of that spirit of the 1930s to New Zealand in the 2020s and beyond.

Contact Details
7 Tennyson Street, Napier, Hawke's Bay 4110
64-6- 835 0022
Visitor Information
Art Deco Centre, 7 Tennyson St, Napier
9am-5pm daily (slightly shorter hours in winter).
Art Deco Shop - free entry Walks&Tours - prices vary: visit https://www.artdeconapier.com/ Festivals and events: Art Deco Festival Napier (February); Winter Deco (July)
Other Facilities
Tourist brochures
Share