Home
Object Detail
1930 Velocette GTP; Velcoe Ltd; 1930; CMM336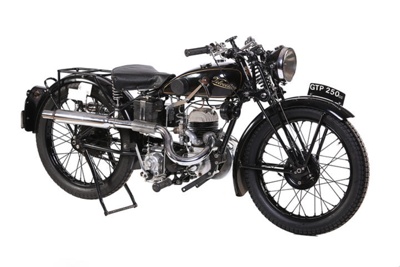 Name/Title
1930 Velocette GTP
About this object
When Veloce Ltd decided to add a lightweight two-stroke to its model range, the name Velocette was chosen to suggest that it was a baby version of the company's larger machines. However, the newcomer was so popular that the company was later named after it. From the beginning, the Velocette two-strokes were advanced. The transmission was by chain throughout when many competitors were still using belts and it had the luxury of a two-speed gearbox although no clutch was fitted. The engine featured positive lubrication rather than relying on oil mixed into the fuel and the piston was of a deflector type to control the gas flow and minimise the extent to which incoming fuel charge passed straight through the combustion chamber.

For 1930, the Velocette two-stroke was extensively redesigned as the GTP with its intake port on the right-hand side of the cylinder barrel and two exhaust ports, pipes and silencers. Continuing the company's policy of pursuing innovative features, the crankcase formed part of the lower frame loop, the rear engine plates accommodated a belt-driven dynamo to power the lights that had become an essential marketing feature and the coil ignition that was less expensive than a magneto. The coil was housed in a cavity on the underside of the fuel tank to keep it out of the weather and close to the spark plug. Perhaps most notably, the company's use of positive lubrication was advanced with an adjustable, reciprocating, valve-less oil pump. The four-speed gearbox has a foot change lever that is adjustable for length and a road tester recorded a top speed of 56.6mph (91kph) on a 1938 model and added that the GTP would cruise all day at 50mph (80kph), which was very respectable for 250cc machine of the period.

The GTP was manufactured from 1930 through to 1939 although a small batch of magneto-ignition GTPs was produced after the Second World War. This first-year example was acquired for the NZ Classic Motorcycles collection from a private vendor in Christchurch, New Zealand in April 2014. Transport World acquired it in May 2016.
Copyright Licence
All rights reserved