Home
Object Detail
1916 Thor Model U ; Thor Moto Cycle and Bicycle Co; 1916; CMM193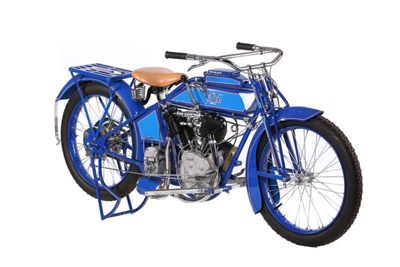 Name/Title
1916 Thor Model U
About this object
The Aurora Machine and Tool Company was founded in 1886 to produce castings and components for many bicycle manufacturers, including the Hendee Bicycle Company that later produced Indian motorcycles. Around 1901, Oscar Hedström took a prototype Indian motorcycle to Aurora and an agreement was made that Aurora would supply Hendee with engines of Hendee's design but that it was also free to supply the engines to other companies and pay Hendee royalties, provided it did not compete directly with Hendee itself. In 1903, Aurora produced a catalogue of parts from which a motorcycle could be built, minus a frame, and launched the Thor Moto Cycle and Bicycle Company. When Hendee established its own in-house foundry, Thor offered complete motorcycles, ending the agreement.

By 1908, Thor offered both magneto and coil ignition, and either belt or chain drive and produced a V-twin engine of its own design. In 1916, a three-speed gearbox was offered. While the company continued manufacturing forgings and components for other motorcycle builders, its own output of motorcycles declined and ended in 1920.

The 1916 Model U is equipped with a 50-degree, 61ci (1,000cc), V-twin rated at 7hp and is in the factory's standard colour. It is one of two identical bikes purchased for the NZ Classic Motorcycles collection at auction in Las Vegas in January, 2009. It was acquired by Transport World in May 2016.
Copyright Licence
All rights reserved