Home
Object Detail
1916 Indian Powerplus ; Hendee Manufacturing Co; 1916; CMM77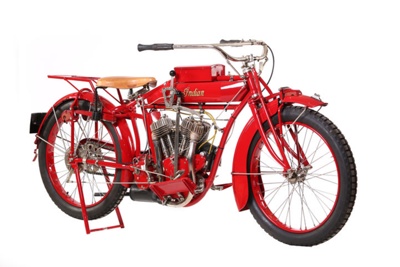 Name/Title
1916 Indian Powerplus
About this object
With George Hendee and Oscar Hedström having both retired from Indian in 1915, Hedström's inlet-over-exhaust, F-head engine designs were phased out and replaced with side-valve engines developed under Charles Gustafson Snr. For 1916, there were also V-twin and single-cylinder, overhead-valve, four-valves-per-cylinder racing engines and a small two-stroke.

The new 1916 side-valve engines were fitted to the 1915, full-cradle frames that featured the company's leaf-sprung front and rear suspension. The Powerplus V-twin engine of 60.88ci (998cc) remained in the company's engine range until 1924 although by then it was overshadowed by the newer Chief. The transmission consisted of a three-speed, hand-change gearbox and foot-operated clutch with all chain drive.

This example was restored in the UK in 2005 using an engine dating from 1919. While the frame, tanks, forks and mudguards are original Indian components, the rest of the cycle parts are all replicas. The refurbishment included a new crank pin, main shafts and bearings, relined cylinders, new JP pistons, reclaimed valve seats, new G&S valves, guides and sprigs, new gear box bearings and pinions, reconditioned carburettor and magneto, new wheel rims, spokes and tyres along with new paint and nickel plating.

It was purchased for the NZ Classic Motorcycles collection in Nelson from its London owner via an auction in Staffordshire in April, 2008. It was acquired by Transport World in May 2016.
Copyright Licence
All rights reserved