Home
Object Detail
Spigot tap; 2018.007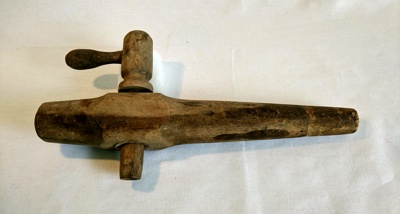 About this object
A wooden Spigot Tap. Conical, made for wooden barrels. The body is 260 mm long.
Machine made, Body is round taped shape with a 22 mm hole where the valve handle sit. The valve is a simple peg with a 10 mm hole to control the flow of the liquid. The valve's handle is a round turned piece of wood set at 90 degrees.
This spigot was used in Awakino pub on their wooden barrels.
Measurements
260 H x 140 W x 45 D mm

Copyright Licence
All rights reserved