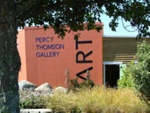 The late Percy Thomson by his will left a significant bequest to be used and applied towards the establishment and maintenance of an arboretum and herbarium of the native flora of New Zealand and an art gallery.

The Stratford District Council has established the Percy Thomson Trust to manage these facilities and to create, acquire, promote, exhibit and manage art collections for the benefit of the inhabitants of the Stratford District and the public generally.

The Percy Thomson Gallery is Stratford's public art gallery and opened in June 2002.The gallery provides an active programme of local, regional and national exhibitions and events.

Our exhibitions cover a range of themes - historical, contemporary, cultural, local groups and touring exhibitions - no collection.
Collection Type
History, Art
Contact Details
Visitor Information
| | |
| --- | --- |
| | Prospero Plc, Miranda Street, Stratford - Taranaki, New Zealand |
| | Open 7 Days 10.30am - 4.00pm Mon - Friday 10.30 am - 3.00pm Weekdays and Public Holidays |
| | Entry free or by donation |
Facilities
The gallery's main display area totals 178m2 which can be comfortably partitioned into two areas of 116m2 and 62m2 respectively.  We have an adjoining Cafe and I - Site in the building complex.