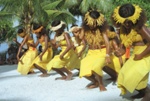 The Archive houses an ethnographic sound collection relating to the Pacific which is of national and international significance.

Established in 1970 to promote research into the music of the indigenous people of New Zealand, the Māori, and those of the people of the Pacific Islands, its holdings today include material from most tribal groups of New Zealand and most Pacific Islands areas, commercial and field recordings of vocal and instrumental music, oral histories, stories and language resources.
Collection Type
History, Pacific, Taonga Maori
Contact Details
Visitor Information
| | |
| --- | --- |
| | Human Sciences Building, Room 820 University of Auckland 10 Symonds St Auckland 1001, New Zealand |
| | Visitors are welcome 9-5 week days, although we recommend you arrange an appointment. |
| | Open to the public. No charge. |
Facilities
Visitor facilities include an audiovisual viewing room. Within the terms of the relevant contract, copies of material are available on request although, for practical reasons, quantities are limited.