Home
Object Detail
Chair; William Sanders; 1860s; XHC.6.1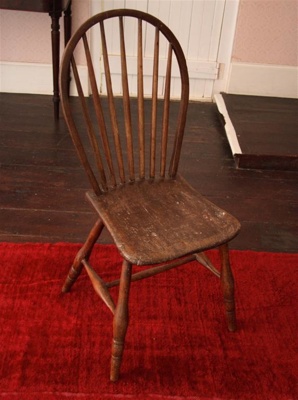 About this object
Chair; a Windsor chair, built circa 1860 by William Sanders of New Plymouth. The back rest consists of an arch supported by seven rods. The legs are simply turned.

William Sanders arrived in New Plymouth in 1841 on board the Plymouth Company ship, the 'Oriental'. Described as a shipwright in the passenger list and then in later documents as a farmer, Sanders was also a competent carpenter. He crafted some of the earliest furniture made in Taranaki, utilising native timbers such as titoki, pukatea and rata vine.

For more information about Hurworth Cottage, which is cared for by Heritage New Zealand Pouhere Taonga, visit our website.
Measurements
89 x 44 x 40cm
Copyright Licence
All rights reserved