Home
Object Detail
Book, 'The Hampdens'; Harriet Martineau (1802-1876); XAH.C.797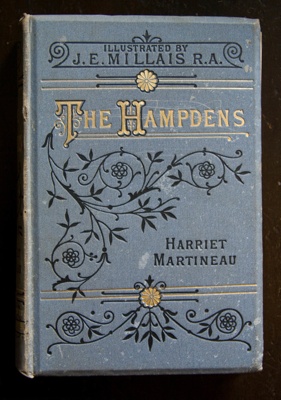 Name/Title
Book, 'The Hampdens'
About this object
This hardbound book entitled 'The Hampdens' was awarded to nine-year-old Mildred Kerr Taylor as a "Conduct Prize" during the Christmas period in 1879.

Harriet Martineau was an English author who wrote many books and essays that discussed the issues of marriage, children, domestic and religious life, and race relations from a feminine perspective. It was very unusual for a female writer to have been so well known during the 19th century. However, Martineau was one of Queen Victoria's favourite authors which mostly likely enhanced her popularity.

Books, like this one, were an important part of Victorian life in a time where there was no television, computers, or radio. Books were not only a vital source of entertainment, but were also didactic, teaching young children important lesson in morality and correct behaviour.

For more information about the Kerr Taylor family and Alberton, which is cared for by Heritage New Zealand Pouhere Taonga, visit our website.
Medium and Materials
Paper
Copyright Licence
All rights reserved