Home
Object Detail
Rabbit poison-pollard cutter; XHE.448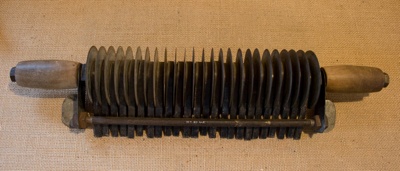 About this object
Rabbit poison-pollard cutter; this is constructed of a central rod strung with wooden handle at each end, and series of sheet metal cutting discs, with spacers in between. The spacers have extended ends projecting horizontally, resting on a metal bar held between two bars projecting out to the side of the handles running the length of device between handles.

Rabbits were an ever multiplying problem in Otago and this pollard cutter was Ernest Hayes' contribution to the war against them. Phosphorised pollard (wheat bran) was introduced from Australia and was the most widely used form of rabbit control in the area, pollard baits were a mixture of bran and poison dried in a sheet and then cut into squres.

Hayes advertised his patented 'Lightning Poison Pollard Cutter' in 1895 and claimed that the pollard cutter could cut 40,000 squares an hour.

The pollard cutting tool was a labour saving device, the first of the simple, well designed and cost-effective tools and equipment for which the Hayes family was to become well known.

For more information about the Hayes family and Hayes Engineering Works, which is cared for by Heritage New Zealand Pouhere Taonga, see our website.
Medium and Materials
metal; wood
Credit Line
Collection of Hayes Engineering Works, Heritage New Zealand Pouhere Taonga

Copyright Licence
All rights reserved