Home
Object Detail
Envelope; New Zealand Post Office Savings Bank (New Zealander, estab. 1876); Circa...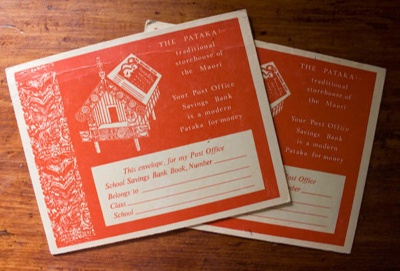 About this object
Envelope; a red pre-printed envelope with the image of a pataka and a carved Maori motif. The envelope reads 'THE PATAKA: - / traditional / storehouse of / the Maori / Your Post Office / Savings Bank / is a modern / Pataka for money'. It has a pre-printed section for the child's name, class and school, with notes for parents and teachers on the reverse.

The Post Office Savings Bank was an important service offered by the local post office from the 1860s. In many small towns and isolated rural communities it was one of the only financial services available. Due to legislation which restricted the rights of other savings banks, by the mid-1950s the Post Office Savings Bank controlled around 80% of the personal savings market. Come the 1970s, business had evolved and the Savings Bank was just one of a wide range of community services offered at the post office.

For more information about Ophir Post Office, which is cared for by the New Zealand Historic Places Trust Pouhere Taonga, visit our website.
Medium and Materials
cardboard
Measurements
12.1 x 15.2cm
Copyright Licence
All rights reserved