Home
Object Detail
Money box; New Zealand Post Office Savings Bank (New Zealander, estab. 1876); XOPO...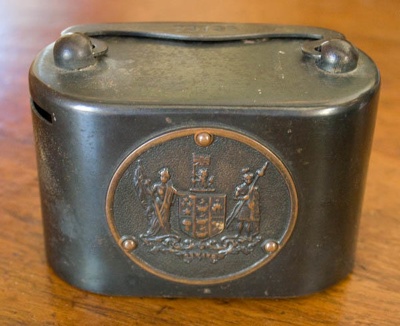 About this object
Money box; rectangular shape with rounded narrow sides. Made from metal with a hinged handle at the top. Attached to the front face by three rivets is a circular plate with the emblem of the New Zealand Post Office which consists of an heraldic shield with a lion and flag on top, Britannia at the left and a Maori figure at the right, and the text ONWARD beneath. On the reverse is another plate with the text NEW ZEALAND / POST OFFICE / SAVINGS BANK. On the handle is engraved 23135 and on the top of the box FISCUS LTD. The base has an esutcheon (key not present). On the left narrow edge is a money slot.

The Post Office Savings Bank was an important service offered by the local post office from the 1860s. In many small towns and isolated rural communities it was one of the only financial services available. Due to legislation which restricted the rights of other savings banks, by the mid-1950s the Post Office Savings Bank controlled around 80% of the personal savings market.

For more information about Ophir Post Office, which is cared for by the New Zealand Historic Places Trust Pouhere Taonga, visit our website.
Medium and Materials
metal
Measurements
7.2 x 9.7 x 5.2cm
Copyright Licence
All rights reserved