Home
Object Detail
Cheese crate end; CT83.1362.17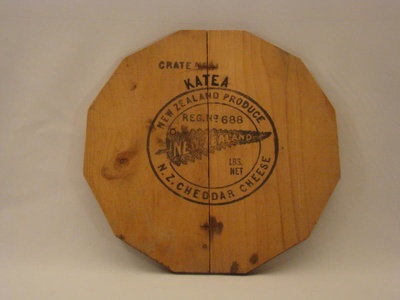 Name/Title
Cheese crate end
About this object
A cheese crate end for crates of NZ Cheddar cheese. Cheese reg. no. 688 was produced at the dairy factory at Katea which is generally agreed to be a shortened form of "kahikatea."

White pine, kahikatea, was eagerly sought after by the saw millers for cheese crates because it was odourless unlike most timbers which have a scent and therefore "taint" butter or cheese.

Most districts in the Catlins had their own dairy factory. The first co-operative dairy factory opened at Ratanui in 1893. Other factories in the Catlins were Tarara (cheese), Hina Hina (cheese) and the Fairfield factory at Katea. This factory was re-built in 1950 after the original was destroyed by fire. The new factory was one of the best in New Zealand for equipment, lay-out and conveniences for handling the production of cheese. As sheep farming became more popular, suppliers dwindled and the Katea dairy factory closed in 1970.
Object number
CT83.1362.17
Copyright Licence
All rights reserved